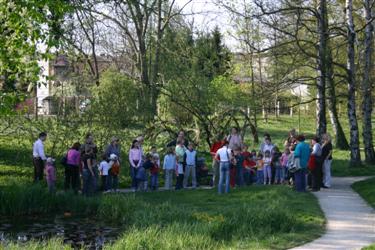 Allow us to presents our program of workshops for kindergarten and pre-school groups. The purpose of these workshops is to teach our youngest visitors to observe their immediate surroundings and accept it as their own.
The Botanic Garden is a piece of real nature in the very center of Ljubljana and within easy reach of its inhabitants. A wide range of topics may make you wish to return to the Garden several times in the course of the same month or in different seasons, yet the topic will never be the same as on your previous visit.
Children love our workshops because they take part in all activities and so never get bored. Children take their workshop products back home.
The knowledge of the world of plants is sadly in decline not only in our country but also in the world at large. Our expertly trained collaborators make children aware of the nature in which we live but hardly notice at all. We suggest you take a look at our program of topics and schedule of charges, see how you register for a guided tour and then visit us right away!
| | |
| --- | --- |
| | |
| | |
| | |
| | |
| | |
| | |
| | |
| | |
| | |
| | |
| | |
| | |
| | |
| | Tree in the Four Season |