Index seminum anno 2003 collectorum
Hortus botanicus Universitatis Labacensis Slovenia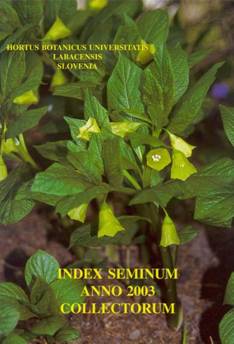 V zbirki in seznamu semen za leto 2003 je zastopanih 1340 vrst rastlin!
Botanični vrtovi, arboretumi in podobne ustanove lahko semena naročajo zastonj.
Omejite število vrst pri naročilu na največ 25!
Oznake v seznamu:
Številka pred imenom vrste je kataloška številka, ki jo navedete v naročilu

Z znakom * so označena semena nabrana na rastlinah gojenih v rastlinjaku.
---
Index seminum anno 2003 collectorum

Acanthaceae
1. Acanthus balcanicus Heywood & Richardson
2. Ruellia humilis Nutt.
3. Ruellia strepens L.
4. Acer campestre L.
5. Acer ginnala Maxim.
6. Acer negundo L.
7. Acer obtusatum L.
8. Acer palmatum Thunb.D13
9. Acer pseudoplatanus L.
10. Acer tataricum L.
11. Actinidia melanandra Franch.

Aizoaceae
12. Tetragonia tetragonioides (Pall.) Kuntze

Alismataceae
13. Alisma plantago-aquatica L.

Alliaceae
14. Allium angulosum L.
15. Allium ericetorum Thore
16. Allium fistulosum L.
17. Allium pyrenaicum Costa & Vayr.
18. Allium senescens L.
19. Allium tuberosum
20. Allium ursinum L.

Amaranthaceae
21. Froelichia gracilis Moq.
22. Gomphrena globosa L.

Anacardiaceae
23. Rhus verniciflua Stokes

Apiaceae
24. Anethum graveolens L.
25. Angelica archangelica L.
26. Apium graveolens L.
27. Athamanta turbith (L.) Brot. subsp. haynaldii (Borbas & ue & Uechtr.) Tutin
28. Athamanta turbith (L.) Brot. subsp. turbith
29. Conium maculatum L.
30. Daucus carota L.
31. Eryngium giganteum Bieb.
32. Eryngium planum L.
33. Foeniculum vulgare Mill.
34. Hacquetia epipactis (Scop.) DC.
35. Heracleum mantegazzianum Somm. & Levier
36. Hladnikia pastinacifolia Rchb.
37. Myrrhis odorata (L.) Scop.
38. Pastinaca sativa L. var. fleischmanni (Hladnik) Burn.
39. Petroselinum crispum (Mill.) A.W.Hill
40. Peucedanum aegopodioides (Boiss.) Vandas
41. Peucedanum coriaceum Rchb.
42. Peucedanum officinale L.
43. Peucedanum oreoselinum (L.) Moench
44. Peucedanum schottii Bess.
45. Peucedanum verticillare (L.) Koch
46. Smyrnium perfoliatum L.

Apocynaceae
47. Amsonia angustifolia Michx.
48. Amsonia tabernaemontana Walt.

Aquifoliaceae
49. Ilex aquifolium L.

Araceae
50. Arum italicum Mill.

Araliaceae
51. Acanthopanax sieboldianus Mak.
52. Hedera helix L.

Asclepiadaceae
53. Asclepias syriaca L.

Asphodelaceae
54. Asphodeline liburnica Rchb.
55. Asphodelus albus L.
56. Hemerocallis lilioasphodelus L.

Asteraceae
57. Ageratum houstonianum Mill.
58. Ambrosia trifida L.
59. Anthemis altissima L.
60. Anthemis austriaca Jacq.
61. Anthemis cotula L.
62. Anthemis nobilis L.
63. Anthemis tinctoria L.
64. Arctium lappa L.
65. Bidens tripartita L.
66. Buphthalmum salicifolium L.
67. Calendula officinalis L.
68. Callistephus chinensis (L.) Ness
69. Carlina vulgaris L. subsp. brevibracteata (Andrae) K. Werner
70. Carthamus lanatus L.
71. Centaurea cyanus L.
72. Cirsium eriophorum (L.) Scop.
73. Cirsium erisithales (Jacq.) Scop.
74. Cnicus benedictus L.
75. Coreopsis grandiflora Nutt.
76. Coreopsis verticillata L.
77. Cosmos bipinnatus L.
78. Cosmos sulphureus Cav.
79. Echinacea angustifolia DC.
80. Echinacea purpurea (L.) Moench
81. Emilia coccinea Sweet
82. Emilia flamea Cass.
83. Eupatorium aromaticum L.
84. Eupatorium cannabinum L.
85. Eupatorium purpureum L.
86. Helenium autumnale L.
87. Helianthus annuus L.
88. Helianthus argophyllus Torr. & Gray
89. Helichrysum bracteatum (Vent.) Andrews
90. Helichrysum italicum (Roth) G. Don fil.
91. Inula ensifolia L.
92. Inula germanica L.
93. Inula helenium L.
94. Inula magnifica L.
95. Inula spiraeifolia L.
96. Iva xanthifolia Nutt.
97. Leucanthemum ircutianum (Turcz.) DC.
98. Liatris spicata (L.) Willd.
99. Matricaria perforata Merat
100. Pyrethrum cinerariifolium Trev.
101. Rudbeckia hirta L.
102. Rudbeckia laciniata L.
103. Rudbeckia speciosa Wenderoth
104. Senecio abrotanifolius L.
105. Senecio fuchsii C. C. Gmelin
106. Serratula lycopifolia (Vill.) A. Kern.
107. Serratula radiata (Waldst. & Kit.) Bieb.
108. Sigesbeckia orientalis L.
109. Silphium integrifolium Michx.
110. Silphium perfoliatum L.
111. Silybum marianum (L.) Gaertn.
112. Stemmacantha rhapontica (L.) Dittrich
113. Tagetes erecta L.
114. Tagetes patula L.
115. Tagetes tenuifolia Cav.
116. Tanacetum vulgare L.
117. Telekia speciosa (Schreber) Baumg.
118. Xanthium italicum Moretti
119. Xanthium strumarium L.
120. Xeranthemum cylindraceum Sibth.& Smith
121. Zinnia elegans Jacq.
122. Zinnia multiflora L.
123. Zinnia pauciflora L.


Balsaminaceae
124. Impatiens balsamina L.

Basellaceae
125. Basella alba L.
126. Basella rubra L.

Berberidaceae
127. Berberis julianae Schneid.

Betulaceae
128. Alnus glutinosa (L.) Gaertn.
129. Alnus incana (L.) Moench
130. Betula humilis Schr.
131. Betula pubescens Ehrh.

Bignoniaceae
132. Catalpa bignonioides Walt.

Boraginaceae
133. Anchusa officinalis L.
134. Borago officinalis L.
135. Cerinthe minor L.
136. Echium vulgare L.
137. Nonea lutea (Lam.) Rchb.
138. Solenanthus scardicus Bornm.
139. Symphytum officinale L.

Brassicaceae
140. Alyssoides sinuata (L.) Med.
141. Alyssoides utriculata (L.) Med.
142. Alyssum alyssoides (L.) L.
143. Alyssum idaeum Boiss. & Heldr.
144. Alyssum montanum L.
145. Arabis muralis Bertol.
146. Arabis sagittata (Bertol.) DC.
147. Arabis turrita L.
148. Aurinia saxatilis (L.) Desv.
149. Barbarea vulgaris L.
150. Berteroa incana (L.) DC.
151. Biscutella laevigata L.
152. Bunias orientalis L.
153. Camelina sativa (L.) Crantz
154. Cardamine bulbifera (L.) Crantz
155. Degenia velebitica (Degen) Hayek
156. Erysimum comatum Pančić
157. Fibigia clypeata (L.) Med.
158. Fibigia eriocarpa (DC.) Boiss.
159. Hesperis candida Kit.
160. Iberis sempervirens L.
161. Isatis tinctoria L.
162. Lunaria rediviva L.
163. Peltaria alliacea Jacq.
164. Thlaspi praecox Wulfen

Buxaceae
165. Buxus sempervirens L.

Caesalpiniaceae
166. Cercis siliquastrum L.
167. Gleditsia triacanthos L.

Campanulaceae
168. Campanula persicifolia L.
169. Campanula poscharskyana Deg.
170. Campanula pyramidalis L.
171. Campanula spicata L.
172. Campanula trachelium L.
173. Platycodon grandiflorum DC.
174. Symphyandra hofmannii Pant.

Cannabaceae
175. Cannabis sativa L.
176. Humulus lupulus L.

Capparidaceae
177. Cleome spinosa Jacq.

Caprifoliaceae
178. Lonicera alpigena L.
179. Lonicera maackii (Rupr.) Maxim.
180. Symphoricarpos albus (L.) Blake

Carpinaceae
181. Carpinus betulus L.
182. Ostrya carpinifolia Scop.

Caryophyllaceae
183. Agrostemma githago L.
184. Arenaria procera Spreng. ex Hornem.
185. Cucubalus baccifer L.
186. Dianthus armeria L.
187. Dianthus gratianopolitanus Vill.
188. Dianthus knappii (Pant.) Ascherson & Kanitz
189. Dianthus monspessulanus L.
190. Dianthus sanguineus Vis.
191. Dianthus tergestinus (Rchb.) Kerner
192. Gypsophila elegans Bieb.
193. Gypsophila scorzonerifolia (Ser.) DC.
194. Lychnis coronaria (L.) Desr.
195. Lychnis flos-jovis (L.) Desr.
196. Lychnis viscaria L.
197. Petrorhagia prolifera (L.) P. W. Ball & Heyw.
198. Petrorhagia saxifraga (L.) Link
199. Saponaria officinalis L. var. flore-pleno Hort.
200. Silene alpestris Jacq.
201. Silene armeria L.
202. Silene vulgaris (Moench) Garcke subsp. glareosa (Jordan) Marsden-Jones & Turill

Celastraceae
203. Celastrus orbiculatus Thunb.
204. Euonymus europaea L.
205. Euonymus latifolia (L.) Mill.

Cercidiphyllaceae
206. Cercidiphyllum japonicum Sieb. & Zucc.

Chenopodiaceae
207. Bassia scoparia (L.) A.J. Scott
208. Chenopodium bonus-henricus L.

Cichoriaceae
209. Cichorium intybus L.
210. Crepis biennis L.
211. Crepis foetida L.
212. Crepis setosa Haller fil.
213. Crepis slovenica Holub
214. Crepis zacintha (L.) Babcock
215. Gynura cernua Benth.
216. Hedypnois cretica (L.)Dum.-Courset
217. Hieracium aurantiacum L.
218. Hieracium bupleuroides C. C. Gmelin
219. Hieracium lanatum Vill.
220. Lapsana communis L.
221. Leontodon hispidus L.
222. Leontodon hispidus L. subsp. brumatii (Schiede ex Reichenb.) T. Wraber
223. Sonchus palustris L.
224. Tragopogon balcanicus Velen.
225. Tragopogon porrifolius L.
226. Tragopogon pterodes Pančić
227. Urospermum picroides (L.) Scop. ex F. W. Schmidt

Colchicaceae
228. Colchicum autumnale L.

Commelinaceae
229. Tradescantia virginiana L.

Convallariaceae
230. Convallaria majalis L.
231. Polygonatum latifolium (Jacq.) Desf.
232. Tricyrtis hirta (Thunb.) Hook.

Convolvulaceae
233. Ipomoea purpurea Roth

Cornaceae
234. Cornus mas L.
235. Cornus sanguinea L.

Crassulaceae
236. Sedum aizoon L.
237. Sedum kamtschaticum Fisch. & Mey.
238. Sedum maximum (L.) Hoffm.
239. Sedum sexangulare L.
240. Sempervivum tectorum L.

Cucurbitacae
241. Bryonia dioica Jacq.
242. Ecballium elaterium (L.) Rich.

Cyperaceae
243. Carex alba L.
244. Carex grayi Carey
245. Carex limosa L.
246. Carex pseudocyperus L.
247. * Cyperus alternifolius L.
248. Eriophorum vaginatum L.

Datiscaceae
249. Datisca cannabina L.

Dioscoreaceae
250. Dioscorea balcanica Košanin
251. Dioscorea batatas Decne.

Dipsacaceae
252. Cephalaria gigantea (Ledeb.) Bobrov
253. Cephalaria leucantha (L.) Roemer & Schultes
254. Dipsacus laciniatus L.
255. Dipsacus pilosus L.
256. Knautia fleischmannii (Hladnik ex Reichenb.) Pacher
257. Scabiosa atropurpurea L.
258. Scabiosa columbaria L.
259. Scabiosa graminifolia L.

Ebenaceae
260. Diospyros virginiana L.

Elaeagnaceae
261. Elaeagnus multiflora Thunb.

Euphorbiaceae
262. Mercurialis annua L.
263. Ricinus communis L.

Fabaceae
264. Amorpha fruticosa L.
265. Anthyllis vulneraria L. subsp. alpestris Aschers. et Graebn.
266. * Arachis hypogaea L.
267. Baptisia australis R. Br.
268. Colutea orientalis Mill.
269. Coronilla scorpioides L.
270. Desmodium canadense (L.) DC.
271. Dolichos lablab L.
272. Dolichos ornatus Wall.
273. Dorycnium germanicum (Gremli) Rouy.
274. Genista tinctoria L.
275. Glycine max (L.) Merr. 'Lutea'
276. Glycine max (L.) Merr. 'Nigra'
277. Glycyrrhiza echinata L.
278. Laburnum alpinum (Mill.) Presl.
279. Laburnum alschingeri (Vis.) C. Koch
280. Laburnum anagyroides Med.
281. Lathyrus laevigatus (W.& K.) Fritsch
282. Lotus ornithopodioides L.
283. Lupinus albus L.
284. Lupinus polyphyllus Lindl.
285. Phaseolus aureus Roxbg.
286. Phaseolus coccineus L.
287. Phaseolus lunatus L.
288. Securigera securidaca (L.) Deg. & Dörtl.
289. Trifolium incarnatum L.
290. Trifolium repens L.
291. Trigonella caerulea (L.) Ser.

Fagaceae
292. Fagus sylvatica L.
293. Quercus petraea (Matt.) Liebl.

Fumariaceae
294. Corydalis cava (L.) Schweigger & Koerte
295. Corydalis lutea (L.) DC.
296. Corydalis ochroleuca Koch
297. Corydalis solida (L.) Clairv. subsp. Solida

Gentianaceae
298. Centaurium erythraea Rafn

Geraniaceae
299. Erodium cicutarium (L.) L'Her.
300. Geranium macrorrhizum L.
301. Geranium pratense L.
302. Geranium robertianum L.

Ginkgoaceae
303. Ginkgo biloba L.

Hamamelidaceae
304. Fothergilla monticola Ashe
305. Hamamelis japonica Sieb. & Zucc.
305. Hamamelis mollis Oliv.
306. Hamamelis virginiana L.

Hyacinthaceae
307. Muscari neglectum Guss. ex Ten.
308. Ornithogalum sphaerocarpum A. Kern.

Hydrophyllaceae
309. Phacelia tanacetifolia Benth.

Hypericaceae
310. Hypericum calycinum L.
311. Hypericum kalmianum L.
312. Hypericum olympicum L.
313. Hypericum perforatum L.
314. Hypericum tetrapterum Fries

Iridaceae
315. Iris graminea L.
316. Iris pseudacorus L.
317. Iris sibirica L. subsp. erirrhiza (Pospichal) T. Wraber
318. Iris sibirica L. subsp. sibirica

Juglandaceae
319. Carya ovata (Mill.) K. Koch
320. Pterocaria fraxinifolia (Poir.) Spach
321. Juglans cinerea L.
322. Juglans nigra L.

Juncaceae
323. Juncus inflexus L.
324. Luzula luzuloides (Lam.) Dandy & Wilm.
325. Luzula nivea (L.) DC.

Lamiaceae
326. Ballota rupestris (Biv.) Vis.
327. Betonica alopecuros L.
328. Betonica serotina Host
329. Calamintha brauneana (Hoppe) Jávorka
330. Horminum pyrenaicum L.
331. Hyssopus officinalis L.
332. Lavandula angustifolia Mill.
333. Leonurus cardiaca L.
334. Marrubium peregrinnum L.
335. Melissa officinalis L.
336. Mentha aquatica L.
337. Mentha cervina L.
338. Monarda didyma L.
339. Nepeta grandiflora Bieb.
340. Ocimum basilicum L.
341. Perilla frutescens (L.) Britton
342. Phlomis tuberosa L.
343. Physostegia virginiana (L.) Benth.
344. Salvia coccinea L.
345. Salvia glutinosa L.
346. Salvia officinalis L.
347. Salvia sclarea L.
348. Satureja montana L. subsp. variegata (Host.) P. W. Ball
349. Satureja subspicata Bartl. ex Vis. subsp. liburnica Šilić
350. Scutellaria alpina L.
351. Scutellaria altissima L.
352. Stachys germanica L.
353. Stachys sieboldii Miq.
354. Teucrium arduini L.
355. Teucrium chamaedrys L.

Lardizabalaceae
356. Decaisnea fargesii Franch.

Liliaceae
357. * Asparagus sprengeri Regel.
358. Danae racemosa (L.) Moench
359. Fritillaria meleagris L.
360. Galtonia candicans (Bak.) Decne.
361. Galtonia princeps Decne.
362. Hosta ventricosa (Salisb.) Stearn
363. Lilium regale Wils.

Linaceae
364. Linum usitatissimum L.

Lobeliaceae
365. Lobelia siphilitica L.

Lythraceae
366. Cuphea lanceolata Ait.
367. Lythrum salicaria L.

Magnoliaceae
368. Magnolia kobus DC.

Malvaceae
369. Abutilon theophrasti Med.
370. Althaea taurinensis DC.
371. * Gossypium arboreum L.
372. * Gossypium hirsutum L.
373. * Hibiscus esculentus L.
374. Hibiscus moscheutos L. var. roseus
375. Hibiscus trionum L.
376. Kitaibelia vitifolia Willd.
377. Lavatera trimestris L.
378. Modiola caroliniana (L.) G. Don f.
379. Sida napaea Cav.

Melanthiaceae
380. Veratrum album L.

Mimosaceae
381. * Mimosa pudica L.

Moraceae
382. Maclura pomifera (Raf.) Schneid.

Nyctaginaceae
383. Mirabilis jalapa L.
384. Oxybaphus floribundus Choisy

Oleaceae
385. Chionanthus virginicus L.
386. Forsythia viridissima Lindl.
387. Fraxinus ornus L.
388. Ligustrum ibota Sieb. & Zucc.

Onagraceae
389. Circaea lutetiana L.
390. Gaura biennis L.
391. Oenothera biennis L.
392. Oenothera rosea Aiton

Orchidaceae
393. Cypripedium calceolus L.

Paeoniaceae
394. Paeonia baxteri Sabine
395. Paeonia lactiflora Pall.
396. Paeonia officinalis L.
397. Paeonia rockii (S.G. Saw. & L.A. Lauener) T. Hong & J.J. Li
398. Paeonia romanica Brandz.
399. Paeonia wittmanniana Hartw.

Papaveraceae
400. Argemone alba Lestib.
401. Chelidonium majus L.
402. Glaucium flavum L.
403. Meconopsis cambrica (L.) Vig.
404. Papaver rhoeas L.
405. Papaver somniferum L.

Pedaliaceae
406. * Sesamum indicum L.

Philadelphaceae
407. Deutzia scabra Thunb.
408. Philadelphus coronarius L.

Phytolaccaceae
409. Phytolacca americana L.

Pinaceae
410. Pinus mugo Turra
411. Tsuga canadensis (L.) Carriere

Plantaginaceae
412. Plantago lanceolata L.

Poaceae
413. Achnantherum calamagrostis (L.) P. Beauv.
414. Andropogon gerardi Vitm.
415. Avena sativa L.
416. Briza maxima L.
417. Briza media L.
418. Calamagrostis epigeios (L.) Roth
419. Coix lacrima-jobi L.
420. Lagurus ovatus L.
421. Leersia oryzoides (L.) Sw.
422. Melica ciliata L.
423. Miscanthus sinensis Anderss.
424. Molinia caerulea (L.) Moench
425. Panicum miliaceum L.
426. Phragmites australis (Cav.) Trin. ex Steud.
427. Piptatherum virescens (Trin.) Boiss.
428. Triticum dicoccum Schrank
429. Sorghum halepense (L.) Pers.
430. Zea mays L.

Polemoniaceae
431. Phlox paniculata L.
432. Polemonium caeruleum L.

Polygonaceae
433. Fagopyrum esculentum Moench
434. Fagopyrum tataricum (L.) Gaertn.
435. Fallopia japonica (Houtt.) Ronse Decraene
436. Polygonum bistorta L.

Portulacaceae
437. Portulaca oleracea L. subsp. Oleracea

Primulaceae
438. Anagallis arvensis L.
439. Hottonia palustris L.
440. Primula denticulata Smith.

Ranunculaceae
441. Aconitum lycoctonum L.em.Koelle subsp.vulparia (Rchb.ex Spreng.) Nym.
442. Anemone hortensis L.
443. Aquilegia grata Zimmeter
444. Caltha palustris L.
445. Clematis integrifolia L.
446. Clematis recta L.
447. Consolida ajacis (L.) Schur.
448. Consolida regalis S. F. Gray
449. Delphinium elatum L.
450. Eranthis hyemalis (L.) Salisb.
451. Helleborus cyclophyllus Boiss.
452. Nigella damascena L.
453. Pulsatilla rubra (Lam.) Delarbre
454. Ranunculus arvensis L.
455. Ranunculus carinthiacus Hoppe
456. Ranunculus gramineus L.
457. Ranunculus millefoliatus Vahl.
458. Ranunculus psilostachys Griseb.
459. Thalictrum minus L. subsp. minus

Rosaceae
460. Agrimonia procera Wallr.
461. Aronia melanocarpa (Michx.) Ell.
462. Aruncus dioicus (Walter) Fernald
463. Cotoneaster bullatus Bois.
464. Cotoneaster horizontalis Decne.
465. Cotoneaster integerrimus Med.
466. Crataegus crus-galli L.
467. Crataegus laevigata (Poir.) DC.
468. Crataegus monogyna Jacq.
469. Crataegus pedicellata Sarg.
470. Duchesnea indica (Andr.) Focke
471. Filipendula ulmaria (L.) Maxim.
472. Filipendula vulgaris Moench
473. Geum coccineum Sibt. & Sm.
474. Geum pallidum Fisch. & Mey.
475. Geum rivale L.
476. Geum urbanum L.
477. Potentilla nivea L.
478. Potentilla pedata Nestler
479. Potentilla recta L.
480. Prunus spinosa L.
481. Pyrus nivalis Jacq.
482. Rhodotypos scandens (Thunb.) Makino
483. Rosa glauca Pourret non Vill.
484. Rosa multiflora Thunb.
485. Rosa pendulina L.
486. Rosa serafinii Viv.
487. Sibiraea altaiensis (Laxm.) Schneid. var. croatica (Degen) G. Beck
488. Sorbus torminalis (L.) Cr.
489. Stephanandra tanakae Franch.
490. Stranvaesia davidiana Decne.

Rutaceae
491. Phellodendron amurense Rupr.
492. Poncirus trifoliata (L.) Raf.
493. Ptelea trifoliata L.
494. Ruta graveolens L.
495. * Zanthoxylum simulans Hance

Sambucaceae
496. Viburnum lantana L.
497. Viburnum sargentii Koehne.

Sapindaceae
498. Koelreuteria paniculata Laxm.

Saxifragaceae
499. Heuchera americana L.
500. Tellima grandiflora (Pursh) Dougl.

Scrophulariaceae
501. Antirrhinum majus L.
502. Digitalis grandiflora Mill.
503. Digitalis purpurea L.
504. Erinus alpinus L.
505. Mimulus guttatus Fischer ex DC.
506. Misopates orontium (L.) Rafin.
507. Penstemon difusus Dougl.
508. Penstemon hirsutus (L.) Willd.
509. Veronica longifolia L.
510. Veronica sibirica L.
511. Veronicastrum virginicum (L.) Farw.

Solanaceae
512. Atropa belladonna L.
513. Browallia demissa L.
514. Datura innoxia Mill.
515. Datura stramonium L.
516. Datura stramonium L. f. inermis (Jacq.) Timm.
517. Lycium chinense Mill.
518. Mandragora officinalis L.
519. Nicandra physaloides (L.) Gaertn.
520. Nicotiana rustica L.
521. Nicotiana tabacum L.
522. Physalis peruviana L.
523. Saracha jaltomata Schlecht.
524. Scopolia carniolica Jacq.
525. Solanum nigrum L. subsp. schultesii (Opiz) Wessely
526. Solanum sisymbrifolium Lam.

Staphyleaceae
527. Staphylea pinnata L.

Styracaceae
528. Halesia carolina L.
529. Pterostyrax hispida Sieb. & Zucc.

Taxaceae
530. Taxus baccata L.

Taxodiaceae
531. Metasequioa glyptostroboides Hu & Cheng

Tiliaceae
532. Tilia platyphyllos Scop.

Tropaeolaceae
533. Tropaeolum majus L.

Typhaceae
534. Typha latifolia L.
535. Typha laxmannii Lepech.
536. Typha schuttleworthii Koch & Sonder

Ulmaceae
537. Celtis occidentalis L.
538. Zelkova carpinifolia (Pall.) K. Koch

Urticaceae
539. Parietaria officinalis L.
540. Urtica dioica L.

Valerianaceae
541. Valeriana montana L.

Verbenaceae
542. Callicarpa bodinieri Lev .var. giraldii Rehd.
543. Lantana camara L.
544. Vitex agnus-castus L.

Violaceae
545. Viola arvensis Murray
546. Viola cornuta L.

Horti Praefectus: dr. Jože Bavcon
Seminum Curator: Janja Makše
Hortulana: Tatjana Mandelj


Semina e plantis spontaneis in loco natali anno 2003, 2002 et 2001 lecta

547. Acer pseudoplatanus L. - Kuhinja, 2003
548. Aconitum angustifolium Bernh. ex Rchb. - Lepena pod Lemežem, 2002
549. Adenostyles glabra (Miller) DC. - V slečju pod Lemežem, 2002
550. Agrimonia eupatoria L. - Croatia; Rab, Banjol, 2001
551. Alisma plantago-aquatica L. - Bela krajina, Velika loza, 2003
552. Alisma plantago-aquatica L. - Krško, Velika vas, 2002
553. Allium ericetorum Thore - Čaven, 2003
554. Allium ericetorum Thore - Čaven, 2002
555. Allium ericetorum Thore - Otlica, 2002
556. Allium roseum L. - Strunjanske soline, 2003
557. Allium senescens L. - Osp, 2002
558. Allium senescens L. - Slatnik, Lanež, 2002
559. Allium senescens L. - Nanos, 2001
560. Allium victorialis L. - Porezen, 2003
561. Allium victorialis L. - Veliki Lemež, 2002
562. Anemone baldensis Turra - Črna prst, Rodica, 2003
563. Angelica sylvestris L. - V slečju pod Lemežem, 2002
564. Anthericum ramosum L. - Nanos, 2003
565. Anthericum ramosum L. - Ljubjana, Vižmarje, 2003
566. Anthericum ramosum L. - Nanos, 2002
567. Anthericum ramosum L. - Čaven, 2001
568. Anthyllis vulneraria L. - Divača, 2003
569. Anthyllis vulneraria L. - Kras, Trstelj, 2002
570. Anthyllis vulneraria L. - Mlake pri Vipavi, 2001
571. Aposeris foetida (L.) Less. - Mežaklja, 2002
572. Aquilegia nigricans Baumg. - Črni vrh, Zadlog, Mala gora, 2003
573. Arabis hirsuta (L.) Scop. - Mežaklja, 2001
574. Arabis pauciflora (Grimm) Garcke - Porezen, 2003
575. Arabis turrita L. - Čaven, 2002
576. Arctium minus Bernh. - Rakitovec, 2003
577. Arctium nemorosum Lej. - Bohor, 2003
578. Arctostaphylos uva-ursi (L.) Spreng. - Stanov rob (Govci), 2003
579. Armeria alpina (DC.) Willd. - Matajur, 2003
580. Arnica montana L. - Porezen, 2003
581. Arum maculatum L. - Raka, 2003
582. Arum maculatum L. - Polhov Gradec, 2002
583. Arundo donax L. - Osp, 2002
584. Asarum europaeum L. - Mirna Peč, Šentjurij, 2002
585. Asparagus acutifolius L. - Osp, 2002
586. Asphodelus albus L. - Nanos, 2003
587. Asphodelus albus L. - Nanos, 2002
588. Asphodelus albus L. - Nanos, 2001
589. Aster amellus L. - Čaven, 2002
590. Aster amellus L. - Bohor, Zajesele, 2002
591. Athamanta turbith (L.) Brot. p.p., em.Karsten. - Stanov rob (Govci), 2003
592. Atropa belladonna L. - Mežaklja, 2001
593. Berberis vulgaris L. - Mežaklja, 2001
594. Betonica officinalis L. - Krakovski gozd, 2002
595. Biscutella laevigata L. - Ljubljana, Vižmarje, 2003
596. Biscutella laevigata L. - Ljubljana, Vižmarje, 2002
597. Biscutella laevigata L. - Ljubljana, Vižmarje, 2001
598. Briza media L. - Mlake pri Vipavi, 2001
599. Briza media L. - Ljubljana, Vižmarje, 2001
600. Buphthalmum salicifolium L. - Rakitovec, 2003
601. Buphthalmum salicifolium L. - Ljubljana, Vižmarje, 2003
602. Buphthalmum salicifolium L. - Ljubljana, Vižmarje, 2002
603. Bupleurum petraeum L. - Stanov rob (Govci), 2003
604. Bupleurum petraeum L. - Lopič (Monte Plauris), 2002
605. Bupleurum petraeum L. - Porezen, 2001
606. Caltha palustris L. - Bevke, 2002
607. Campanula pyramidalis L. - Rakitovec, 2003
608. Capsella bursa-pastoris (L.) Medicus - Bevke, 2002
609. Cardamine enneaphyllos (L.) Crantz - Slivnica, 2003
610. Cardamine pentaphyllos (L.) Crantz - Škofje, 2002
611. Cardamine pratensis L. - Bevke, 2002
612. Carduus nutans L. - Čaven, 2001
613. Carex flacca Schreb. - Ljubljana, Vižmarje, 2002
614. Carpinus betulus L. - Raka, 2003
615. Centaurea rupestris L. - Nanos, 2003
616. Centaurea rupestris L. - Čaven, 2002
617. Centaurea rupestris L. - Nanos, 2002
618. Centaurea rupestris L. - Nanos, 2001
619. Centaurea scabiosa L. subsp. scabiosa - Ljubljana, Vižmarje, 2003
620. Centaurea scabiosa L. subsp. scabiosa - Ljubljana, Vižmarje, 2002
621. Chrysopogon gryllus (L.) Trin. - Krško, 2003
622. Chrysopogon gryllus (L.) Trin. - Kras, Vale pri Komnu, 2002
623. Chrysopogon gryllus (L.) Trin. - Nanos, 2001
624. Cirsium eriophorum (L.) Scop. - Golica, 2003
625. Cirsium erisithales (Jacq.) Scop. - Porezen, 2003
626. Cirsium oleraceum (L.) Scop. - Velika vas, 2002
627. Cirsium oleraceum (L.) Scop. - Podpleče, 2002
628. Cirsium oleraceum (L.) Scop. - Brest pri Igu, 2002
629. Cirsium pannonicum (L. f.) Link - Ljubljana, Vižmarje, 2003
630. Cirsium pannonicum (L. f.) Link - Lajše, 2002
631. Cirsium pannonicum (L. f.) Link - Ljubljana, Vižmarje, 2002
632. Cirsum vulgare (Savi) Tenore - Leskovec, Gorenja vas, 2003
633. Clematis recta L. - Rakitovec, 2003
634. Clematis vitalba L. - Čičarija, Kavčice, 2002
635. Clematis vitalba L. - Rakitovec, 2001
636. Clinopodium vulgare L. - Otlica, 2002
637. Colchicum autumnale L. - Grosuplje, Radensko polje, 2001
638. Colutea arborescens L. - Croatia; Rab, Dubac, 2001
639. Convallaria majalis L. - Kurešček, 2001
640. Convallaria majalis L. - Nanos, 2001
641. Cornus sanguinea L. - Leskovec, Gornja vas, 2003
642. Cornus sanguinea L. - Ljubljana, Vižmarje, 2002
643. Cornus sanguinea L. - Čičarija, Kavčiče, 2002
644. Cornus sanguinea L. - Kurešček, 2001
645. Corydalis solida (L.) Sw. - Lokavec, 2001
646. Cotinus coggygria Scop. - Kras, Trstelj, 2002
647. Cotinus coggygria Scop. - Kostanjevica na Krasu, 2001
648. Cotoneaster integerrimus Med. - Kobla, 2001
649. Cotoneaster tomentosus (Ait.) Lindl. - Čaven, 2003
650. Crataegus monogyna Jacq.- Banjšice, Sleme, 2003
651. Crataegus monogyna Jacq. - Rakitovec, 2001
652. Crithmum maritimum L. - Croatia; Rab, 2001
653. Crocus vernus (L.)Hill subsp. albiflorus (Kit.) Ascherson & Graebner - Križna gora, 2003
654. Cupressus sempervirens L. - Croatia; Krk, Baška, 2003
655. Cypripedium calceolus L. - Zelenica, Ljubelj, 2003
656. Daucus carota L. - Mirna Peč, Šentjurij, 2003
657. Daucus carota L. - Raka, 2003
658. Daucus carota L. - Podpleče, 2002
659. Daucus carota L. - Otlica, 2002
660. Deschampsia caespitosa (L.) PB. - Čaven, 2001
661. Dianthus monspessulanus L. - Bohor, Veternik, 2002
662. Dianthus monspessulanus L. - Nanos, 2002
663. Dianthus sanguineus Vis. - Divača, 2003
664. Dianthus sanguineus Vis. - Kras, Gabrovica pri Komnu, 280 m, 2002
665. Dianthus sanguineus Vis. - Kostanjevica na Krasu, 2001
666. Dictamnus albus L. - Divača, 2003
667. Dictamnus albus L. - Kras, Trstelj, 2002
668. Dictamnus albus L. - Kostanjevica na Krasu, 2001
669. Digitalis grandiflora Mill. - Bohor, Zajesele, 2003
670. Digitalis grandiflora Mill. - Bohor, Jablance, 2002
671. Digitalis grandiflora Mill. - Kravja Črna gora, 2001
672. Dorycnium germanicum (Gremli) Rouy. - Zaplana, 2002
673. Dorycnium germanicum (Gremli) Rouy. - Kras, Trstelj, 2002
674. Dorycnium germanicum (Gremli) Rouy. - Nanos, 2001
675. Dryas octopetala L. - Strma peč (Monte Cimone), 2001
676. Echinops ritro L. subsp. ruthenicus (Bieb.) Nyman. - Čaven, 2003
677. Echinops ritro L. subsp. ruthenicus (Bieb.) Nyman. - Čaven, 2002
678. Echinops ritro L. subsp. ruthenicus (Bieb.) Nyman. - Čaven, 2001
679. Chamaeneiron angustifolium (L.) Scop. - Porezen 2003 Porezen
680. Epipactis muelleri Godfery - Volarska gmajna, 2001
681. Epipactis palustris (L.) Crantz - Vintarjevški potok, 2003
682. Eranthis hyemalis (L.) Salisb. - Bohor, Veliki Javornik, 2001
683. Eriophorum angustifolium Honck. - Horjul, Lipalica, 2002
684. Eriophorum latifolium Hoppe. - Pokljuka, 2001
685. Eriophorum vaginatum L. - Pokljuka, barje Šijec, 2003
686. Eriophorum vaginatum L. - Pokljuka, barje Šijec, 2002
687. Eryngium alpinum L. - Porezen, 2001
688. Eryngium amethystinum L. - Rakitovec, 2003
689. Eryngium amethystinum L. - Čičarija, Kavčiče, 2002
690. Eryngium amethystinum L. - Osp, 2002
691. Eryngium amethystinum L. - Rakitovec, 2001
692. Eryngium amethystinum L. - Nanos, 2001
693. Erysimum sylvestre Scop. - Nanos, 2003
694. Erysimum sylvestre Scop. - Nanos, 2002
695. Euonymus europaea L. - Reber pri Žužemberku, 2002
696. Euonymus europaea L. - Ljubljansko barje, 2002
697. Euonymus europaea L. - Tolmin, 2001
698. Eupatorium cannabinum L. - Nanos, 2003
699. Eupatorium cannabinum L. - Zaplana, 2002
700. Eupatorium cannabinum L. - Škofje, 2001
701. Eupatorium cannabinum L. - Ljubljansko barje, Brest, 2001
702. Fagus sylvatica L. - Čaven, 2003
703. Ferulago campestris (Bess.) Grec. - Nanos, 2003
704. Ferulago campestris (Bess.) Grec. - Nanos, 2002
705. Ferulago campestris (Bess.) Grec. - Korada, 2002
706. Filipendula ulmaria (L.) Maxim. - Ljubljansko barje, Brest, 2001
707. Filipendula vulgaris Moench - Ljubljana, Vižmarje, 2003
708. Filipendula vulgaris Moench - Ljubljana, Vižmarje, 2002
709. Filipendula vulgaris Moench - Nanos, 2001
710. Frangula alnus Mill. - Brest pri Igu, 2002
711. Frangula alnus Mill. - Ljubljansko barje, Brest, 2001
712. Frangula rupestris (Scop.) Schur - Banjšice, Sleme, 2003
713. Frangula rupestris (Scop.) Schur - Nanos, 2002
714. Fraxinus ornus L. - Čičarija, Kavčiče, 2003
715. Fraxinus ornus L. - Korada, Vrhoveljska planina, 2003
716. Fraxinus ornus L. - Čičarija, Kavčiče, 2002
717. Fraxinus ornus L. - Lepena, 2001
718. Fraxinus ornus L. - Rakitovec, 2001
719. Fritillaria meleagris L. - Bevke, 2003
720. Fritillaria meleagris L. - Bevke, 2002
721. Fritillaria meleagris L. - Ljubljansko barje, 2001
722. Galium verum L. - Ljubljana, Vižmarje, 2003
723. Galium verum L. - Ljubljana, Vižmarje, 2002
724. Genista sylvestris Scop. - Nanos, 2001
725. Genista tinctoria L. - Zaplana, 2002
726. Genista tinctoria L. - Krško, Velika vas, 2002
727. Genista tinctoria L. - Croatia; Fužine, 2001
728. Gentiana asclepiadea L. - Porezen, 2001
729. Gentiana cruciata L. - Mežaklja, 2001
730. Gentiana lutea L. - Baška grapa, Možic,1200 m, 2003
731. Gentiana lutea L. subsp. symphyandra Murbeck - Nanos, 2003
732. Gentiana lutea L. subsp. symphyandra Murbeck - Čaven, 2003
733. Gentiana lutea L. subsp. symphyandra Murbeck - Čaven, 2002
734. Gentiana lutea L. subsp. symphyandra Murbeck - Nanos, 2002
735. Gentiana lutea L. subsp. symphyandra Murbeck - Slatnik, 2002
736. Gentiana lutea L. subsp. symphyandra Murbeck - Nanos, 2001
737. Gentiana lutea L. subsp. symphyandra Murbeck - Croatia; Fužine, Delnice, 2001
738. Geum urbanum L. - Otlica, 2001
739. Gladiolus illyricus Koch - Ljubljana, Vižmarje, 2003
740. Gladiolus illyricus Koch - Kanalski Kolovrat, Vrh pri sv. Jakobu, 2003
741. Gladiolus illyricus Koch - Nanos, 2003
742. Gladiolus illyricus Koch - Nanos, 2002
743. Gladiolus illyricus Koch - Ljubljana, Vižmarje, 2002
744. Gladiolus illyricus Koch - Nanos, 2001
745. Globularia cordifolia L. - Gorenji Log, 2002
746. Globularia punctata Lapeyr. - Krško, 2003
747. Gymnadenia conopsea (L.) R. Br.- Vintarjevški potok, 2003
748. Hedera helix L. - Osp, 2002
749. Heracleum austriacum L. subsp. siifolium (Scop.) Nyman - Pod Malim Pihavcem nad Trento, 2002
750. Heracleum sphondylium L. - Nanos, 2003
751. Heracleum sphondylium L. - Podpleče, 2002
752. Hibiscus trionum L. - Reber pri Žužemberku, 2001
753. Hippophaë rhamnoides L. - Italija; Sv. Anton pod Lopičem , 2002
754. Hladnikia pastinacifolia Rchb. - Poldanovec, 2003
755. Hladnikia pastinacifolia Rchb. - Čaven, 2003
756. Hladnikia pastinacifolia Rchb. - Čaven, 2002
757. Hladnikia pastinacifolia Rchb. - Čaven, 2001
758. Humulus lupulus L. - Ljubljansko barje, 2001
759. Hypericum perforatum L. - Čaven, 2003
760. Hypericum perforatum L. - Čaven, 2002
761. Hypericum perforatum L. - Porezen, 2001
762. Hypochoeris maculata L. - Ljubljana, Vižmarje, 2002
763. Ilex aquifolium L. - Makčeva grapa, Gorenja Trebuša, 2001
764. Inula conyza L. - Dominov rob, Stopnik, Dolenja Trebuša, 2003
765. Inula ensifolia L. - Gorenji Log, 2002
766. Inula helenium L.- Gorenja Trebuša, 2003
767. Inula hirta L. - Nanos, 2003
768. Inula hirta L. - Nanos, 2002
769. Inula hirta L. - Čaven, 2002
770. Inula hirta L. - Čaven, 2001
771. Iris graminea L. - Banjšice, Sleme, 2003
772. Iris graminea L. - Čaven, 2003
773. Iris graminea L. - Čaven, 2002
774. Iris sibirica L. subsp. erirrhiza (Pospichal) T.Wraber - Banjšice, Sleme, 2003
775. Iris sibirica L. subsp. erirrhiza (Pospichal) T. Wraber - Nanos, 2003
776. Iris sibirica L. subsp. erirrhiza (Pospichal) T. Wraber - Nanos, 2002
777. Iris sibirica L. subsp. erirrhiza (Pospichal) T. Wraber - Čičarija, Kavčiče, 2002
778. Iris sibirica L. subsp. erirrhiza (Pospichal) T. Wraber - Nanos, 2001
779. Juncus maritimus Lam. - Croatia; Rab, Dubac, 2001
780. Juniperus communis L. - Rakitovec, 2003
781. Juniperus communis L. - Mirna Peč, Šentjurij, 2001
782. Juniperus communis L. - Nanos, 2001
783. Juniperus communis L. - Croatia; Fužine, 2001
784. Juniperus oxycedrus L. - Croatia; Rab, Dubac, 2001
785. Juniperus phoenicea L. - Croatia; Proist, 2003
786. Jurinea mollis (L.) Rchb. - Čičarija, Kavčiče, 2003
787. Jurinea mollis (L.) Rchb. - Čičarija, Kavčiče, 2001
788. Jurinea mollis (L.) Rchb. - Sežana, Štorje, 2001
789. Kickxia spuria (L.) Dumort. - Senovo, Brezje, 2003
790. Laburnum alpinum (Mill.) Presl. - Italija; Breška gora, 2003
791. Lagurus ovatus L. - Croatia; Rab, Suza, 2001
792. Laserpitium latifolium L. - Nanos, 2003
793. Laserpitium latifolium L. - Čaven, 2003
794. Laserpitium latifolium L. - Čaven, 2002
795. Laserpitium latifolium L. - Slatnik, 2002
796. Laserpitium latifolium L. - Možic, 2001
797. Laserpitium siler L. - Čičarija, Kavčiče, 2003
798. Laserpitium siler L. - Nanos, 2003
799. Laserpitium siler L. - Čaven, 2003
800. Laserpitium siler L. - Čaven, 2002
801. Laserpitium siler L. - Nanos, 2002
802. Laserpitium siler L. - Rakitovec, 2001
803. Laurus nobilis L. - Osp, 2002
804. Leontodon hispidus L. - Nadiža, 2001
805. Libanotis sibirica (L.) C. A. Meyer subsp. montana (Crantz) P. W. Ball - Nanos, 2003
806. Libanotis sibirica (L.) C. A. Meyer subsp. montana (Crantz) P. W. Ball - Nanos, 2002
807. Libanotis sibirica (L.) C. A. Meyer subsp. montana (Crantz) P. W. Ball - Nanos, 2001
808. Ligusticum sequieri (Jacq.) Koch - Čaven, 2003
809. Ligusticum seguieri (Jacq.) Koch - Lemež nad Krnskim jezerom, 2002
810. Ligusticum seguieri (Jacq.) Koch - Čaven, 2001
811. Ligustrum vulgare L. - Ljubljana, Vižmarje, 2003
812. Ligustrum vulgare L. - Ljubljana, Vižmarje, 2002
813. Ligustrum vulgare L. - Ljubljansko barje, 2001
814. Lilium bulbiferum L. - Čaven, 2002
815. Lilium bulbiferum L. subsp. bulbiferum - Nanos, 2002
816. Limodorum abortivum (L.) Sw. - Velike Lašče, Mala Slevica, 2003
817. Linum narbonense L. - Nanos, 2003
818. Linum narbonense L. - Nanos, 2002
819. Linum narbonense L. - Nanos, 2001
820. Linum viscosum L. - Ljubljana, Vižmarje, 2002
821. Lotus corniculatus L. - Porezen, 2003
822. Lotus corniculatus L. - Ljubljana, Vižmarje, 2002
823. Lotus corniculatus L. - Mlake pri Vipavi, 2001
824. Lunaria rediviva L. - Lepena, 2002
825. Lysimachia punctata L. - Brest pri Igu, 2002
826. Lysimachia vulgaris L. - Raka, 2003
827. Lysimachia vulgaris L. - Ljubljansko barje, Brest, 2001
828. Lythrum salicaria L. - Brest pri Igu, 2002
829. Melica ciliata L. - Kras, Trstelj, 2002
830. Melica ciliata L. - Kras, Vale pri Komnu, 2002
831. Melica nutans L. - Divača, 2003
832. Molinia caerulea (L.) Moench subsp. caerulea - Čičarija, Kavčiče, 2002
833. Molopospermum peloponnesiacum (L.) Koch - Italija; Rezija, Črni potok, 2003
834. Molopospermum peloponnesiacum (L.) Koch - Italija; Stolov greben, Breška gora, 2003
835. Molopospermum peloponnesiacum (L.) Koch - Lanež, 2002
836. Myrrhis odorata (L.) Scop. - Gorjanci, 2003
837. Myrrhis odorata (L.) Scop. - Porezen, 2003
838. Myrrhis odorata (L.) Scop. - Vogar, 2001
839. Myrtus communis L. - Croatia; Dubac, 2001
840. Onobrychis arenaria (Kit.) DC. - Ljubljana, Vižmarje, 2001
841. Onobrychis viciifolia Scop. - Ljubljana, Vižmarje, 2002
842. Onopordum acanthium L. - Bohor, Zalog, 2003
843. Orchis mascula (L.) L. - Velike Lipljene, 2003
844. Orchis morio L. - Velike Lipljene, 2003
845. Orchis pallens L. - Turjak, 2003
846. Osyris alba L. - Osp, 2002
847. Paederota lutea Scop. - Sončni rob (Govci), 2003
848. Paeonia officinalis L. - Rakitovec, 2003
849. Paeonia officinalis L. - Nanos, 2003
850. Paeonia officinalis L. - Divača, 2003
851. Paeonia officinalis L. - Nanos, 2002
852. Paeonia officinalis L. - Čičarija, Kavčiče, 2002
853. Paeonia officinalis L. - Rakitovec, 2001
854. Paliurus spina-christi Mill. - Dragonja, 2002
855. Paliurus spina-christi Mill. - Osp, 2002
856. Papaver rhoeas L. - Ljubljana, Vižmarje, 2002
857. Papaver rhoeas L. - Bohor, 2002
858. Pastinaca sativa L. - Zaplana, 2002
859. Pastinaca sativa L. - Ljubljana, Vižmarje, 2002
860. Petasites albus (L.) Gaertn. - Martinji vrh, Železniki, 2001
861. Petasites hybridus (L.) Gaertner - Potok pod Blegošem, 2002
862. Peucedanum austriacum (Jacq.) Koch - Slatnik, 2002
863. Peucedanum austriacum (Jacq.) Koch var. rablense (Wulf.) Koch - Lepena, 2001
864. Peucedanum cervaria (L.) Lapeyr. - Gorenji Log, 2002
865. Peucedanum oreoselinum (L.) Moench - Ljubljana, Šentvid, 2003
866. Peucedanum oreoselinum (L.) Moench - Raka, 2003
867. Peucedanum oreoselinum (L.) Moench - Čaven 2003
868. Peucedanum oreoselinum (L.) Moench - Nanos, 2002
869. Peucedanum oreoselinum (L.) Moench - Ljubljana, Vižmarje, 2002
870. Peucedanum oreoselinum (L.) Moench - Škofje, 2001
871. Peucedanum ostruthium (L.) Koch - Čez Potoče, Krnsko pogorje, Lemež, 2003
872. Peucedanum ostruthium (L.) Koch - Bavšica, 2001
873. Peucedanum verticillare (L.) Koch - Klonte, Baška dolina, 2001
874. Phillyrea latifolia L. - Osp, 2002
875. Phleum paniculatum Huds. - Krško; Leskovec; Drnovo, 2002
876. Phragmites australis (Cav.) Trin. ex Steud. - Ljubljansko barje, 2002
877. Pinus pinea L. - Croatia; Rab, Banjol, 2001
878. Plantago holosteum Scop. - Nanos, 2002
879. Plantago lanceolata L. - Ambrus, 2001
880. Plantago media L. - Otlica, 2002
881. Pleurospermum austriacum (L.) Hoffm. - Porezen, 2003
882. Pleurospermum austriacum (L.) Hoffm. - Možic, 2001
883. Polygonatum multiflorum (L.) All. - Raka, 2003
884. Polygonatum odoratum (Mill.) Druce - Nanos, 2003
885. Polygonatum odoratum (Mill.) Druce - Nanos, 2002
886. Polygonatum verticillatum (L.) All. - Nanos, 2003
887. Prenanthes purpurea L. - Nanos, 2003
888. Prenanthes purpurea L. - Čaven, 2002
889. Prunus spinosa L. - Čičarija, Kavčiče, 2002
890. Prunus spinosa L. - Rakitovec, 2001
891. Pseudolysimachion barrelieri Schott ex Roem. & Schult. subsp. barrelieri - Otlica, 2002
892. Pulsatilla montana (Hoppe) Rchb. - Slivnica, 2003
893. Pulsatilla montana (Hoppe) Rchb. - Križna gora, 2003
894. Ranunculus platanifolius L. - Črni vrh; Zadlog; Mala gora, 2003
895. Rhamnus catharticus L. - Čaven, 2003
896. Rhamnus catharticus L. - Nanos, 2003
897. Rhamnus catharticus L. - Nanos, 2001
898. Rhamnus fallax Boiss. - Nanos, 2002
899. Rhamnus fallax Boiss. - Krnsko jezero, 2002
900. Rhamnus saxatilis Jacq. - Nanos, 2003
901. Rhamnus saxatilis Jacq. - Nanos, 2002
902. Rhododendron luteum Sweet - Boštanj, 2001
903. Rosa glauca Pourret non Vill. - Rakitovec, 2003
904. Rosa glauca Pourret non Vill. - Čaven, 2003
905. Rosa glauca Pourret non Vill. - Čaven, 2002
906. Rosa glauca Pourret non Vill. - Nanos, 2001
907. Rosa pendulina L. - Italija; Breška gora, 2003
908. Rosa pendulina L. - Porezen, 2001
909. Ruscus aculeatus L. - Dragonja, 2002
910. Ruscus aculeatus L. - Doblar, 2002
911. Ruta divaricata Ten. - Otlica, 2003
912. Ruta divaricata Ten. - Otlica, 2002
913. Ruta divaricata Ten. - Čičarija, Kavčiče, 2002
914. Salix waldsteiniana Willd. - Porezen, 2002
915. Salvia glutinosa L. - Mirna Peč, Šentjurij, 2002
916. Sambucus ebulus L. - Croatia; Rab, 2001
917. Sambucus racemosa L. - Nanos, 2003
918. Saponaria officinalis L. - Bohor, Zajesele, 2003
919. Satureja montana L. - Rakitovec, 2003
920. Satureja subspicata Bartl ex Vis. subsp. liburnica Šilić - Otlica, 2002
921. Saussurea pygmaea (Jacq.) Sprengel - Črna prst, Rodica, 2003
922. Scabiosa columbaria L. - Otlica, 2001
923. Scabiosa graminifolia L. - Čaven, 2003
924. Scabiosa graminifolia L. - Čaven, 2002
925. Scabiosa graminifolia L. - Italija; Sv. Anton (dolina Vanzonasa), 2002
926. Scabiosa graminifolia L. - Čaven, 2001
927. Scabiosa lucida Vill. - Strma peč (Monte Cimone), 2001
928. Scopolia carniolica Jacq. f. hladnikiana (Biatz.&Fleischm.) E.Mayer - Bohor, 2003
929. Scorzonera humilis L. - Sedlo pod Vremščico, 2002
930. Scorzonera rosea Waldst.&Kit. - Porezen, 2003
931. Sempervivum tectorum L. - Vrh Bače, 2002
932. Sempervivum tectorum L. - Otlica, 2002
933. Sempervivum tectorum L. - Otlica, 2001
934. Senecio abrotanifolius L. - Krnsko jezero, 2002
935. Senecio fuchsii C. C. Gmelin - Čaven, 2002
936. Smilax aspera L. - Croatia; Rab, Dubac, 2001
937. Smyrnium perfoliatum L. - Rakitovec, 2002
938. Smyrnium perfoliatum L. - Croatia; Senj, Jablanac, 2001
939. Solanum dulcamara L. - Nanos, 2002
940. Solanum dulcamara L. - Osp, 2002
941. Solanum dulcamara L. - Mežaklja, 2001
942. Solidago gigantea Aiton - Leskovec, Gorenja vas, 2003
943. Solidago virgaurea L. subsp. virgaurea - Porezen, 2001
944. Sorbus aria (L.) CR. - Banjšice, Sleme, 2003
945. Sorbus aria (L.) CR. - Čaven, 2003
946. Sorbus aria (L.) CR. - Nanos, 2001
947. Sorbus aucuparia L. subsp. aucuparia - Čaven, 2003
948. Spiraea decumbens Koch. - Italija; Rezija, Črni potok, 2003
949. Spiranthes spiralis (L.) Chevall. - Velike Lipljene, 2003
950. Stachys recta L. - Kostanjevica na Krasu, 2001
951. Staphylea pinnata L. - Bela krajina, Kučar, 2001
952. Stemmacantha rhapontica (L.) Dittrich - Lemež, 2003
953. Stemmacantha rhapontica (L.) Dittrich - Italija, Lanež (Stolov greben), 2002
954. Tanacetum corymbosum (L.) Schultz Bip. subsp. corymbosum - Čaven, 2002
955. Telekia speciosa (Schreber) Baumg. - Pleh, Lazna, 2003
956. Thalictrum aquilegiifolium L. - Ljubljana, Vižmarje, 2003
957. Thalictrum lucidum L. - Kobariško blato, 2001
958. Thalictrum minus L. - Čičarija, Kavčiče, 2002
959. Thalictrum minus L. subsp. saxatile (DC.) Schinz & Keller - Čaven, 2003
960. Thalictrum minus L. subsp. saxatile (DC.) Schinz & Keller - Čaven, 2001
961. Trifolium noricum Wulf. - Ljubljana, Vižmarje, 2003
962. Trifolium rubens L. - Mlake pri Vipavi, 100 m , 2001
963. Trisetum flavescens (L.) P. Beauv. - Ljubljana, Vižmarje, 2001
964. Veratrum album L. - Mrzli vrh, 2001
965. Verbascum blattaria L. - Tolmin, 2001
966. Veronica urticifolia Jacq. - Porezen, 2001
967. Viburnum lantana L. - Banjšice, Sleme, 2003
968. Viburnum lantana L. - Kurešček, 2001
969. Viburnum opulus L. - Ljubljana, Vižmarje, 2002
970. Viburnum opulus L. - Ljubljansko barje, 2002
971. Vincetoxicum hirundinaria Medicus - Nanos, 2003
972. Vitex agnus-castus L. - Croatia; Rab, Dubac, 2001

Collectors of the wild seeds:

dr. Bavcon Jože
Budna Sonja
Cenčič Drago
dr. Dakskobler Igor
Dakskobler Ljudmila
Dolinar Brane
Lesar Helena, univ. dipl. biol.
Marinček Alenka, prof. biol.
dr. Pintar Luka
mag. Podobnik Andrej
dr. Vreš Brane
prof. dr. Wraber Tone




Semina in horto alpino Juliana Museum historiae naturalis Sloveniae anno 2003 lecta

973. Achillea clavenae L.
974. Aconitum angustifolium Bernh. ex Rchb.
975. Aconitum degenii Gáyer subsp. paniculatum (Archang.) Mucher
976. Aconitum lycoctonum L. em. Koelle subsp. ranunculifolium (Rchb.) Schinz & Keller
977. Aconitum lycoctonum L. em. Koelle subsp. vulparia (Rchb. ex Spreng.) Nym.
978. Actaea spicata L.
979. Adenophora liliifolia (L.) Bess.
980. Adenostyles glabra (Miller) DC.
981. Aethionema saxatile (L.) R. Br.
982. Alchemilla velebitica Borbas
983. Alchemilla vulgaris L.
984. Alisma plantago-aquatica L.
985. Allium carinatum L.
986. Allium ericetorum Thore
987. Allium schoenoprasum L. subsp. alpinum (DC.) Čelak.
988. Allium senescens L.
989. Allium ursinum L.
990. Allium victorialis L.
991. Alyssum montanum L.
992. Alyssum ovirense A. Kerner
993. Amelanchier ovalis Med.
994. Androsace lactea L.
995. Androsace villosa L.
996. Anemone narcissiflora L.
997. Anemone nemorosa L.
998. Anemo1ne ranunculoides L.
999. Anemone trifolia L.
1000. Antennaria dioica (L.) Gaertner
1001. Anthericum ramosum L.
1002. Anthyllis jacquinii Kerner
1003. Aposeris foetida (L.) Less.
1004. Aquilegia einseleana F. W. Schultz
1005. Aquilegia kitaibelli Schott
1006. Aquilegia nigricans Baumg.
1007. Arabis alpina L.
1008. Arabis soyeri Reuter & Huet
1009. Arabis vochinensis Sprengel
1010. Aremonia agrimonoides (L.) DC.
1011. Armeria alpina (DC.) Willd.
1012. Arnica montana L.
1013. Artemisia campestris L.
1014. Aruncus dioicus (Walter) Fernald
1015. Asparagus tenuifolius Lam.
1016. Asperula aristata L.
1017. Asperula taurina L.
1018. Aster alpinus L.
1019. Aster amellus L.
1020. Aster bellidiastrum (L.) Scop.
1021. Aster linosyris (L.) Bernh.
1022. Astragalus carniolicus Kern.
1023. Astragalus glycyphyllos L.
1024. Astragalus penduliflorus Lam.
1025. Astrantia carniolica Jacq.
1026. Astrantia major L.
1027. Atropa belladonna L.
1028. Aurinia petraea (Ard.) Schur
1029. Betonica alopecuros L.
1030. Betonica officinalis L.
1031. Biscutella laevigata L.
1032. Braya alpina Sternb. & Hoppe
1033. Buphthalmum salicifolium L.
1034. Bupleurum exaltatum Bieb.
1035. Bupleurum ranunculoides L.
1036. Calamintha brauneana (Hoppe) Jávorka
1037. Caltha palustris L.
1038. Campanula cespitosa Scop.
1039. Campanula glomerata L.
1040. Campanula spicata L.
1041. Campanula thyrsoides L.
1042. Campanula trachelium L.
1043. Cardamine enneaphyllos (L.) Crantz
1044. Cardamine pentaphyllos (L.) Crantz
1045. Carduus defloratus L.
1046. Carlina acaulis L.
1047. Centaurea alpina L.
1048. Centaurea dichroantha A. Kerner
1049. Centaurea rupestris L.
1050. Centaurea scabiosa L. subsp. fritschii (Hayek) Hayek
1051. Centaurea scabiosa L. subsp. scabiosa
1052. Cephalanthera damasonium (Mill.) Druce
1053. Cephalanthera longifolia (L.) Fritsch
1054. Cephalaria leucantha (L.) Roemer & Schultes
1055. Cerastium carinthiacum Vest subsp. austroalpinum (Kunz) Kunz
1056. Cerastium strictum Haenke
1057. Cerinthe glabra Miller
1058. Chaerophyllum villarsii Koch
1059. Chamaecytisus hirsutus (L.) Briq.
1060. Chamaenerion angustifolium (L.) Scop.
1061. Chamaenerion palustre Scop.
1062. Chamaespartium sagittale (L.) P. Gibbs
1063. Chenopodium bonus-henricus L.
1064. Cirsium carniolicum Scop.
1065. Cirsium erisithales (Jacq.) Scop.
1066. Cirsium oleraceum (L.) Scop.
1067. Clematis alpina (L.) Miller
1068. Clinopodium vulgare L.
1069. Convallaria majalis L.
1070. Coronilla coronata Nathhorst.
1071. Coronilla emerus L.
1072. Coronilla vaginalis Lam.
1073. Corydalis cava (L.) Schweigger & Koerte
1074. Corydalis solida (L.) Clairv.
1075. Cotoneaster integerrimus Med.
1076. Cotoneaster tomentosus (Ait.) Lindl.
1077. Crepis kerneri Rech. fil.
1078. Crocus vernus (L.) Hill. subsp. albiflorus (kit.) Ascherson & Graebner
1079. Crocus vernus (L.) Hill. subsp. vernus
1080. Cypripedium calceolus L.
1081. Cytisus pseudoprocumbens Markgr.
1082. Dactylorhiza maculata (L.) Soó
1083. Daphne alpina L.
1084. Dianthus alpinus L.
1085. Dianthus barbatus L.
1086. Dianthus monspessulanus L.
1087. Dianthus petraeus Waldst. & Kit.
1088. Dianthus sternbergii Sieber
1089. Dianthus sylvestris Wulfen
1090. Dianthus tergestinus (Rchb.) Kerner
1091. Dictamnus albus L.
1092. Digitalis ferruginea L.
1093. Digitalis grandiflora Miller
1094. Digitalis laevigata Waldst. & Kit.
1095. Doronicum austriacum Jacq.
1096. Dorycnium germanicum (Gremli) Rouy.
1097. Draba aizoides L.
1098. Draba tomentosa Clairv.
1099. Dryas octopetala L.
1100. Echinops exaltatus Schrader
1101. Echinops ritro L. subsp. ruthenicus (Bieb.) Nyman
1102. Epilobium alpestre (Jacq.) Krocker
1103. Epilobium montanum L.
1104. Epimedium alpinum L.
1105. Epipactis atrorubens (Hoffm. ex Bernh.) Besser
1106. Epipactis helleborine (L.) Crantz
1107. Epipactis palustris (L.) Crantz
1108. Erinus alpinus L.
1109. Eryngium alpinum L.
1110. Eryngium amethystinum L.
1111. Erysimum sylvestre Scop.
1112. Euonymus latifolia (L.) Mill.
1113. Eupatorium cannabinum L.
1114. Euphorbia angulata Jacq.
1115. Euphorbia kerneri Huter
1116. Euphorbia verrucosa L.
1117. Filipendula ulmaria (L.) Maxim.
1118. Filipendula vulgaris Moench
1119. Frangula rupestris (Scop.) Schur
1120. Fumana procumbens (Dun.) Gren. & Godr.
1121. Galanthus nivalis L.
1122. Galium purpureum L.
1123. Galium sylvaticum L.
1124. Genista radiata (L.) Scop.
1125. Genista sericea Wulf.
1126. Genista sylvestris Scop.
1127. Gentiana acaulis L.
1128. Gentiana angustifolia Vill.
1129. Gentiana asclepiadea L.
1130. Gentiana clusii Perr. & Song.
1131. Gentiana cruciata L.
1132. Gentiana lutea L.
1133. Geranium macrorrhizum L.
1134. Geranium nodosum L.
1135. Geranium pratense L.
1136. Geranium sanguineum L.
1137. Geum molle Vis. & Pančić
1138. Geum montanum L.
1139. Geum rivale L.
1140. Geum speciosum Alboff
1141. Gladiolus illyricus Koch
1142. Gladiolus palustris Gaudin
1143. Globularia cordifolia L.
1144. Globularia nudicaulis L.
1145. Globularia punctata Lapeyr.
1146. Grafia golaka (Hacq.) Rchb.
1147. Gymnadenia conopsea (L.) R. Br.
1148. Gymnadenia odoratissima (L.) L. C. Rich.
1149. Gypsophila repens L.
1150. Hedysarum hedysaroides (L.) Schinz et Thell.
1151. Helianthemum alpestre (Jacq.) DC.
1152. Helianthemum grandiflorum (Scop.) Lam. & DC.
1153. Helleborus niger L.
1154. Hemerocallis lilioasphodelus L.
1155. Heracleum austriacum L. subsp. siifolium (Scop.) Nyman
1156. Hesperis candida Kit.
1157. Hieracium amplexicaule L.
1158. Hieracium gymnocephalum Griseb. ex Pant.
1159. Hieracium hoppeanum Schultes
1160. Hieracium porrifolium L.
1161. Hippocrepis comosa L.
1162. Hladnikia pastinacifolia Rchb.
1163. Homogyne alpina (L.) Cass.
1164. Homogyne sylvestris Cass.
1165. Horminum pyrenaicum L.
1166. Hypericum montanum L.
1167. Hypericum perforatum L.
1168. Inula ensifolia L.
1169. Inula spiraeifolia L.
1170. Iris graminea L.
1171. Iris pallida Lam. subsp. cengialti (Ambrosi) Foster
1172. Iris pallida Lam. subsp. illyrica (Tommasini) T. Wraber
1173. Iris sibirica L.
1174. Isopyrum thalictroides L.
1175. Kernera saxatilis (L.) Reichenb.
1176. Knautia drymeia Heuffel
1177. Knautia fleischmannii (Hladnik ex Reichenb.) Pacher
1178. Knautia illyrica G. Beck
1179. Knautia longifolia (Waldst. & Kit.) Koch
1180. Laserpitium latifolium L.
1181. Laserpitium siler L.
1182. Lathyrus laevigatus (W. & K.) Fritsch
1183. Lathyrus pannonicus (Jacq.) Garcke
1184. Lathyrus vernus (L.) Bernh.
1185. Leontodon hispidus L.
1186. Leontopodium alpinum Cass.
1187. Leucanthemum ircutianum (Turcz.) DC.
1188. Ligusticum seguieri (Jacq.) Koch
1189. Lilium bulbiferum L.
1190. Lilium carniolicum Bernh.
1191. Linaria alpina (L.) Miller
1192. Linum julicum Hayek
1193. Listera ovata (L.) R. BR.
1194. Lithospermum officinale L.
1195. Lunaria rediviva L.
1196. Luzula nivea (L.) DC.
1197. Lysimachia punctata L.
1198. Lysimachia vulgaris L.
1199. Lythrum salicaria L.
1200. Maianthemum bifolium L.
1201. Medicago pironae Vis.
1202. Meum athamanticum Jacq.
1203. Micromeria thymifolia (Scop.) Fritsch
1204. Minuartia capillacea (All.) Graebn.
1205. Minuartia gerardii (Willd.) Hayek
1206. Myrrhis odorata (L.) Scop.
1207. Narcissus poeticus L. subsp. radiiflorus (Salisb.) Baker
1208. Nigritella rhellicani Teppner & Klein
1209. Omalotheca sylvatica (L.) Schultz Bip. & F. W. Schultz in F. W. Schultz
1210. Omphalodes verna Moench
1211. Orchis militaris L.
1212. Origanum vulgare L.
1213. Oxyria digyna (L.) Hill
1214. Oxytropis jacquinii Bunge
1215. Paederota bonarota (L.) L.
1216. Paeonia mascula (L.) Mill.
1217. Paeonia officinalis L.
1218. Papaver alpinum L. subsp. ernesti-mayeri Markgraf
1219. Papaver alpinum L. subsp. kerneri (Hayek) Fedde
1220. Parnassia palustris L.
1221. Peltaria alliacea Jacq.
1222. Petasites paradoxus (Retz.) Baumg.
1223. Petrorhagia saxifraga (L.) Link
1224. Peucedanum austriacum (Jacq.) Koch
1225. Peucedanum austriacum (Jacq.) Koch var. rablense (Wulf.) Koch
1226. Peucedanum cervaria (L.) Lapeyr.
1227. Peucedanum oreoselinum (L.) Moench
1228. Peucedanum ostruthium (L.) Koch
1229. Peucedanum schottii Bess.
1230. Peucedanum verticillare (L.) Koch
1231. Phyteuma orbiculare L.
1232. Phyteuma spicatum L.
1233. Pinguicula alpina L.
1234. Pinguicula vulgaris L.
1235. Platanthera bifolia (L.) L. C. Rich
1236. Polemonium caeruleum L.
1237. Polygonatum multiflorum (L.) All.
1238. Polygonatum odoratum (Miller) Druce
1239. Polygonum bistorta L.
1240. Polygonum viviparum L.
1241. Potentilla carniolica A. Kerner
1242. Potentilla caulescens L.
1243. Potentilla clusiana Jacq.
1244. Prenanthes purpurea L.
1245. Primula auricula L.
1246. Primula elatior (L.) Hill
1247. Primula farinosa L.
1248. Primula halleri J. F. Gmelin
1249. Primula veris L. subsp. columnae (Ten.) Lüdi in Hegi
1250. Primula x venusta Host
1251. Pritzelago alpina (L.) O. Kuntze
1252. Pseudolysimachion barrelieri Schott ex Roem. & Schult.
1253. Pseudolysimachion barrelieri Schott ex Roem. & Schult.
1254. Pulmonaria officinalis L.
1255. Pulsatilla alpina (L.) Delarbre
1256. Pyrola chlorantha Sw.
1257. Ranunculus hybridus Biria
1258. Ranunculus montanus Willd.
1259. Ranunculus platanifolius L.
1260. Ranunculus thora L. f. pseudoscuattus E. Mayer
1261. Reseda lutea L.
1262. Rhodothamnus chamaecistus (L.) Reichenb.
1263. Ribes alpinum L.
1264. Rumex alpinus L.
1265. Rumex nivalis Hegetschw.
1266. Ruta divaricata Ten.
1267. Salix reticulata L.
1268. Salvia verticillata L.
1269. Sanguisorba officinalis L.
1270. Saponaria officinalis L.
1271. Satureja montana L.
1272. Satureja subspicata Bartl. ex Vis. subsp. liburnica Šilić
1273. Saussurea discolor (Willd.) DC.
1274. Saxifraga aizoides L.
1275. Saxifraga burseriana L.
1276. Saxifraga crustata Vest
1277. Saxifraga cuneifolia L.
1278. Saxifraga hostii Tausch
1279. Saxifraga paniculata Miller
1280. Saxifraga squarrosa Sieber
1281. Scabiosa caucasica Bieb.
1282. Scabiosa graminifolia L.
1283. Scabiosa hladnikiana Host
1284. Scabiosa lucida Vill.
1285. Scabiosa silenifolia Waldst. & Kit.
1286. Scopolia carniolica Jacq.
1287. Scorzonera villosa Scop.
1288. Scrophularia juratensis Schleicher
1289. Scrophularia vernalis L.
1290. Sedum album L.
1291. Sedum dasyphyllum L.
1292. Sedum maximum (L.) Hoffm.
1293. Senecio abrotanifolius L.
1294. Senecio fuchsii C. C. Gmelin
1295. Seseli gouanii Koch
1296. Sibirea croatica Degen
1297. Silene acaulis (L.) Jacq.
1298. Silene alpestris Jacq.
1299. Silene dioica (L. em. Mill.) Clairv.
1300. Silene hayekiana Handel-Mazzetti & Janchen
1301. Silene latifolia Poiret
1302. Silene nutans L.
1303. Silene pusilla Waldst. & Kit.
1304. Silene rupestris L.
1305. Silene vulgaris (Moench) Garcke subsp. glareosa (Jordan) Marsden-Jones & Turill
1306. Soldanella minima Hoppe
1307. Solidago virgaurea L. subsp. minuta (L.) Arcangeli
1308. Solidago virgaurea L. subsp. virgaurea
1309. Spiraea decumbens Koch
1310. Stachys menthifolia Vis.
1311. Stachys sylvatica L.
1312. Succisa pratensis Moench
1313. Tanacetum corymbosum (L.) Schultz Bip.
1314. Taraxacum officinale Weber in Wiggers
1315. Telekia speciosa (Schreber) Baumg.
1316. Tephroseris crispa (Jacq.) Reichenb.
1317. Teucrium chamaedrys L.
1318. Teucrium montanum L.
1319. Thalictrum aquilegiifolium L.
1320. Thalictrum minus L.
1321. Thlaspi praecox Wulfen
1322. Tofieldia calyculata (L.) Wahlenb.
1323. Trifolium badium Schreb.
1324. Trifolium montanum L.
1325. Trifolium rubens L.
1326. Trollius europaeus L.
1327. Tussilago farfara L.
1328. Vaccinium vitis-idaea L.
1329. Valeriana montana L.
1330. Valeriana officinalis L.
1331. Valeriana tripteris L.
1332. Veratrum nigrum L.
1333. Verbascum nigrum L.
1334. Veronica fruticans Jacq.
1335. Veronica jacquinii Baumg.
1336. Veronica officinalis L.
1337. Veronica urticifolia Jacq.
1338. Veronica urticifolia Jacq.
1339. Viburnum opulus L.
1340. Vicia oroboides Wulf.
1341. Vincetoxicum hirundinaria Medicus


Curator: dr. Nada Praprotnik
Hortulani: Jože Završnik & Marija Završnik

Alpski botanični vrt Juliana v Trenti je odprt od 1. maja do 30. septembra vsak dan od 8.30 do 18.30.

Informacije o vrtu posreduje Prirodoslovni muzej Slovenije, Prešernova 20, p.p. 290, SI - 1000 Ljubljana, Slovenija:

tel.: + 386 1 241 09 40
fax.: + 386 1 241 09 53
e-mail: Cette adresse e-mail est protégée contre les robots spammeurs. Vous devez activer le JavaScript pour la visualiser.
spletna stran: http://www2.pms-lj.si/juliana/juliana.html

The "Juliana" botanical garden in the Trenta valley is open daily from 8.30 to 18.30 between May 1st and September 30th.

For any information on the garden please contact the Slovene Museum of Natural History, Prešernova 20, p.p. 290, SI - 1000 Ljubljana, Slovenija:

Tel.: + 386 1 241 09 40
fax.: + 386 1 241 09 53
e-mail: Cette adresse e-mail est protégée contre les robots spammeurs. Vous devez activer le JavaScript pour la visualiser.
website: http://www2.pms-lj.si/juliana/juliana.html





Botanični vrt Univerze v Ljubljani
Ižanska cesta 15
SI-1000 Ljubljana
Slovenija
Desiderata 2004
Your address:
In response to the International Convention on Biological Diversity (Rio de Janeiro,1992), the Hortus Botanicus Universitatis Labacensis supplies the seeds requested as laid down in the present Convention.
I agree to comply with the conditions above.
Signature _______________________ Date ________________________
Please return this order form with numbers you wish to receive!