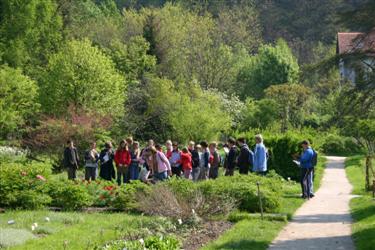 STANDARD OFFER:
1. General tour of Botanic Garden in different seasons
2. Structure, growth and development of plants
(1) Plant propagation – seeds and cuttings
(2) Plant organs
3. Habitats
(1) Puddle, marsh and bog
(2) Carnivorous plants
(3) Meadow and meadow plants
(4) Create a plant that…
(5) Forest and woody plants
(6) Trees during winter
(7) Tropical glasshouse – plants of tropical and subtropical sites and adjustments to their environment
4. Plant system
(1) How to determine plants?
5. Plants, their use and inportance for humans
(1) Plants and Festivals: Pumpkin the Pumpkin and the Halloween
6. Magnifiers (only for 5th grade)
(1) Seeds
(2) Plant organs
(3) Puddle
7. Plant detectives – individual work
8. Excursion to Ljubljana Moors
Against additional payment, all themes and workshops can be performed in combination with planting.
Alenka Marinček
Head of Pedagogical Programe of University Botanic Gardens Ljubljana
Ljubljana, 3th March 2016